Choosing the right-sized Pit Boss
What size pellet grill do I need?
There are a few different factors that can help determine which size grill will best meet your needs.
How much food you cook per meal?
Do you use your grill for entertaining?
Do you like to travel with your grill?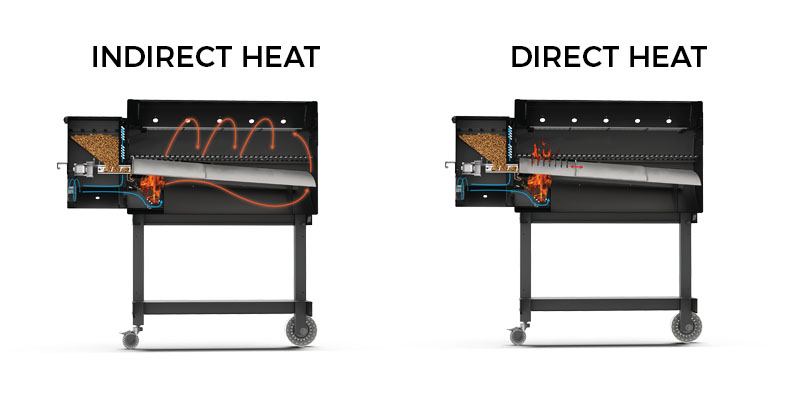 One factor that Pit Boss owners don't need to worry about as much as other types of grills is that using indirect cooking won't reduce the usable cooking space of the grill (like it would for a propane grill for instance). On a Pit Boss Grill, the entire space can be used for indirect heat if you prefer.
With these considerations in mind, here is a breakdown of the different Pit Boss Grill sizes to help you choose what size pellet grill will meet your needs:
300 – 500 Square Inch Grills
Grills within this size are great for cooking the main dish of your meal for yourself or a small gathering. But don't let the size fool you, they're plenty big to fit the bigger cuts of meat like a whole brisket, pork shoulder, or a full rack of baby back ribs. You can comfortably fit about 20 quarter pound burger patties in this size range as well.
The compact size makes these grills very portable and great for camping, RVing, tailgating, and apartment or condo patios.
Check out The Tailgater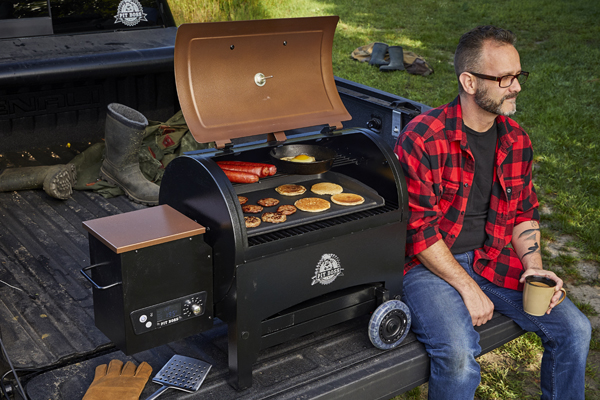 For a great pellet grill in this range, you can't go wrong with The Tailgater. This portable grill is small enough to take on the road but has enough space to get you by at home. The Tailgater has an advanced H1 Digital Control Center, Flame Broiler Sear Plate, and is constructed with cast iron grates and solid, 12-gauge steel materials to lock in heat. Small but mighty, it is a great pellet grill for tailgating, camping, watching football and NASCAR events at home, and a whole lot more.
Learn More
700 to 820 Square Inch Grills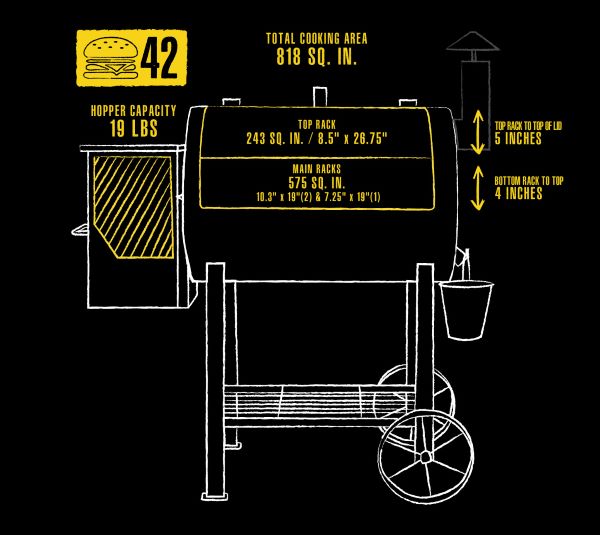 This is a great size range for your everyday, family grill. If you have a family of 4 or less, this grill will be your workhorse.
When you purchase a grill of this size, you get more options to cook different types of ingredients for your meals at once. If you're grilling a whole chicken, for instance, you would still have plenty of room to grill corn, potatoes and greens allowing you to have every part of your meal ready at the same time. Every dish would have that tasty wood-fired flavor, hot off the grill.
Check out The Pro Series 820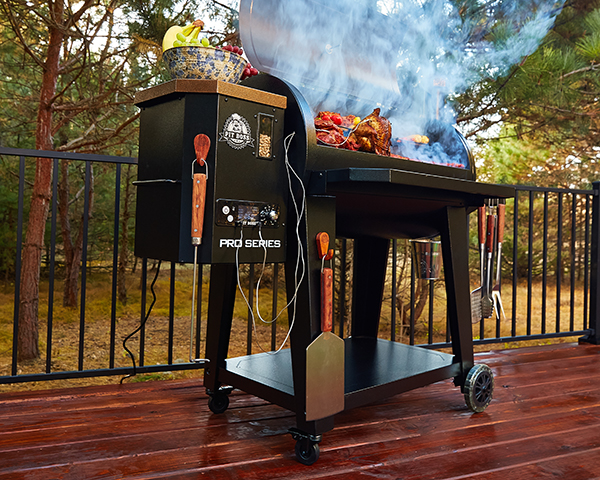 If you want the perfect grill for your family with enough features and style to impress your friends while they are over watching the game, The Pro Series 820 is the grill for you. Featuring 820 square inches of cooking space, heavy duty porcelain coated cast iron cooking grids, meat probes, tool hooks, Flame Broiler Sear Plate, and so much more.
The Pro Series 820 has enough features for the serious griller but is just the right size for the casual BBQ'er as well. The 820 and the 1100 are built with the solid steel construction that Pit Boss is known for and can reach temperatures of 1000°F with the Flame Broiler Plate left wide open for direct heat. Head on down to Lowes and find out why Pit Boss Grills are Bigger. Hotter. Heavier.
Learn More
900 Square Inches and Beyond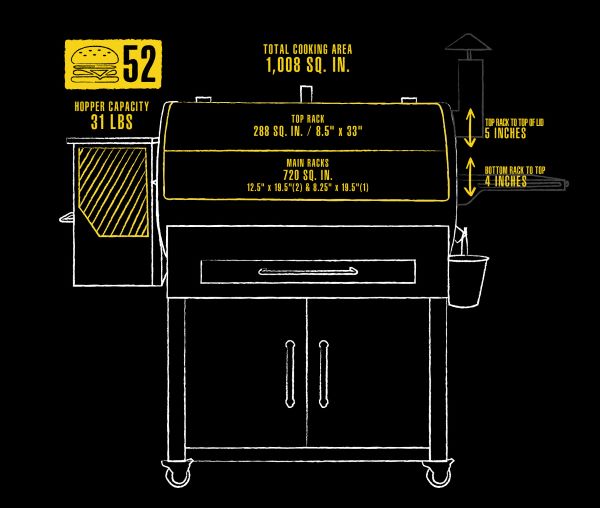 Now you're ready to do some SERIOUS cooking. Pit Boss Pellet Grills these sizes are meant for throwing a feast. But don't be fooled, you can use them every day of the week, no matter what kind of meal you are cooking for.
900 square inches (and above) gives you plenty of room to cook a few different large cuts of meat at the same time, including whole briskets, pork shoulders, multiple racks of ribs, and more. It's the perfect size if you're hosting a big event at your home and want to feed a fair number of guests.
With 8 in 1 ways to cook on a Pit Boss Pellet Grill, your options are practically endless.
Check out The Austin XL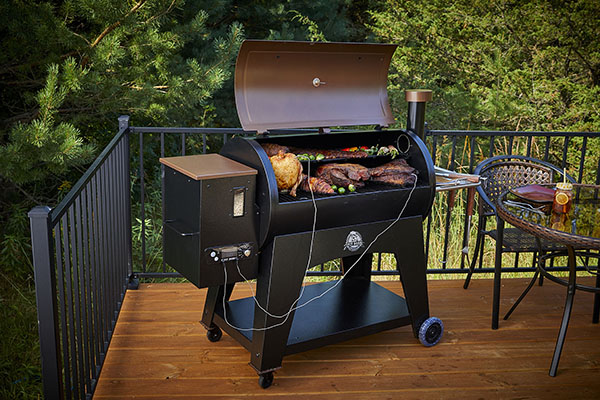 Let's get real, the Austin XL is built like a tank and has plenty of space to feed a small army. But what good is all that space if you keep having to feed pellets into the hopper? That's why we built this big grill with a big, 31-pound capacity hopper. At a 1.5 pound/per hour burn rate at 225°F, you could literally smoke for almost a full day without having to refill on pellets.
The Austin XL is truly the best value for a pellet grill you can get anywhere. Sold exclusively at Walmart stores, it carries the same standards as all our other products. And at 931 square inches of cooking space, 178 pounds of 12-gauge steel construction, and searing temperatures of 1,000°F you will see why we can proudly call our wood pellet grills the Biggest, Heaviest, and Hottest in the industry!
Learn More
We Just Keep Getting Better
For 2020, we are coming in HOT. Be sure to sign up for our newsletter to receive the latest on product releases, grill giveaways, specials, bundles, recipes, and so much more!
Create an account to sign up!