How to use the Pit Boss Turkey Bucket Kit
Cooking for the holidays can seem like a huge undertaking when you consider the intense meal planning and preparations that come with it. And that's where we come in. Let us help you tackle the centerpiece of your holiday feast with a simple process for a flavorful, juicy turkey.
Make your turkey prep stress-free and snag a Pit Boss Turkey Bucket Kit. This bundle includes everything you will need to make your holiday meal a success, including an all-weather storage bucket that can hold up to a 25-pound turkey or 5 gallons of pellets, a Turkey Prep Seasonings Kit, and 20 pounds of Pit Boss Wood Pellets.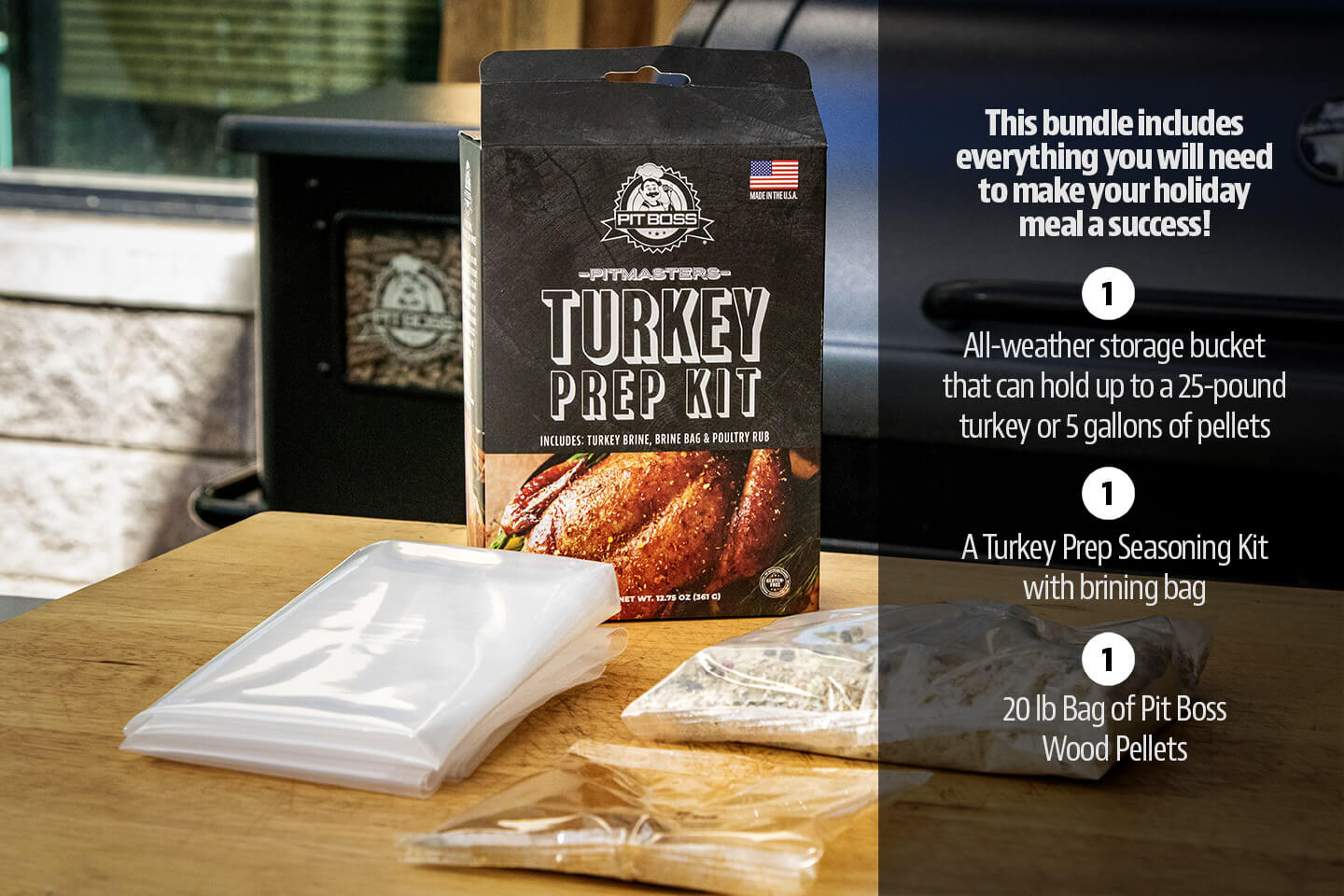 How to use the Pit Boss Turkey Bucket Kit
Follow along with our step-by-step guide for the ultimate holiday turkey.
All you'll need is your bucket kit, an 11-to-14-pound turkey, and water. Plus, your Pit Boss pellet grill or smoker, of course!
We also recommend fueling up with Pit Boss Apple Blend Hardwood Pellets for the perfect kiss of smoke.
Days before your holiday meal:
At least a week before your holiday celebrations, you'll need to plan out your feast and start buying your ingredients – particularly the turkey.
Then, thaw your turkey. The USDA recommends thawing your turkey in the refrigerator as the safest method.
It's also a time-consuming method, as you should allow one day for each 4 to 5 pounds of weight.
The night before:
Combine the brine blend with 4 cups water in a large pot and bring to a boil for 5 minutes. Remove from heat, then add 1 gallon of cold water and refrigerate until the mixture is cooled entirely.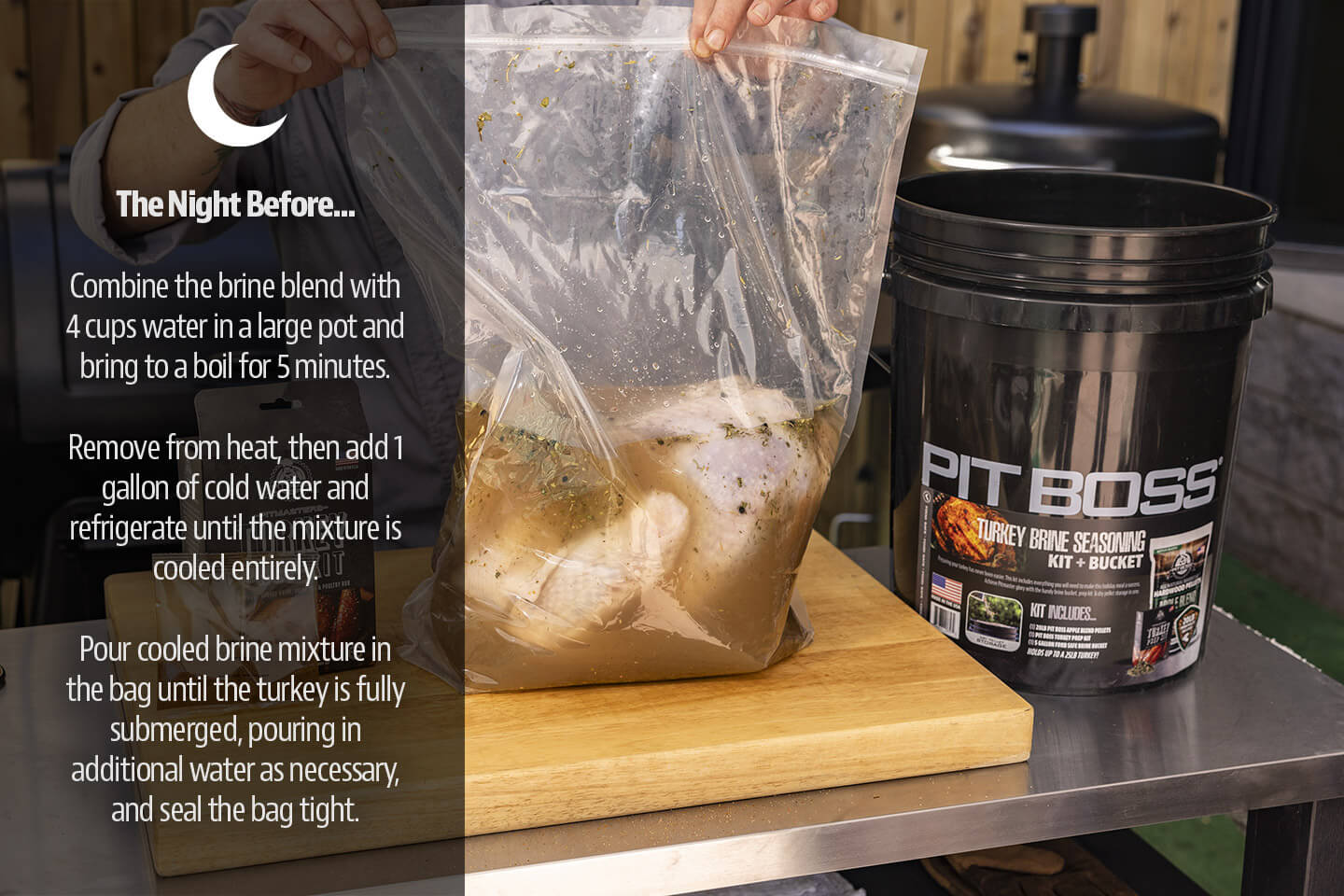 Place the turkey in the brining bag breast side down and set in a large pan or bucket.
Pour cooled brine mixture in the bag until the turkey is fully submerged, pouring in additional water as necessary, and seal the bag tight.
Place in the refrigerator to brine for 30 to 60 minutes per pound or overnight.
The day of:
After brining, remove the turkey from the bag, rinse the inside and outside of the bird thoroughly and pat dry. 
Drizzle olive oil over the turkey and rub generously with poultry rub on the outer skin. For ultimate flavor, season in between the skin and breast meat as well. 
Place the turkey in your Pit Boss Grill or Pit Boss Vertical Pellet Smoker and insert the temperature probe into the deepest part of the breast. Cook at 275°F for 3.5 to 4 hours or until the breast and thigh meat reaches an internal temperature of 165°F.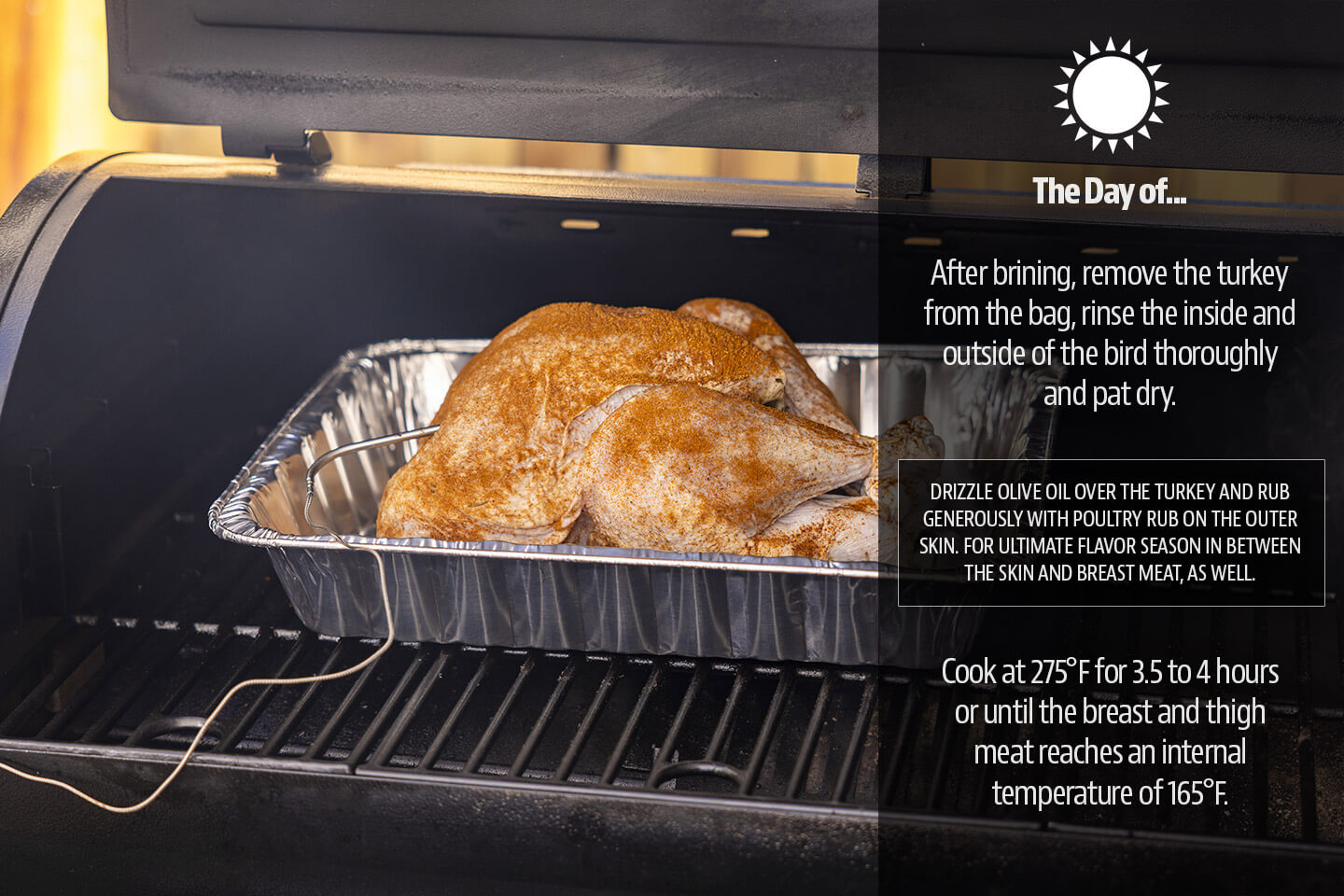 When you're ready to serve:
Remove the turkey from the grill/smoker and allow the turkey to rest for 20 to 30 minutes. Carve and enjoy!