Marty Smith's Tailgating Guide
Marty Smith here. It's the most wonderful time of the year. Football season is back, and Pit Boss is here to help you tackle game day.  
I've traveled to hundreds of football stadiums in my lifetime at the high school, collegiate, and professional level and figured I'd share this wealth of knowledge with whoever wants it.
As a sports broadcaster, I'm often asked which university does tailgating best. This is very difficult, because so many tradition-rich college football locations have elite tailgating experiences that are intrinsically woven into the fabric of their gameday mystique.  
Ole Miss comes to mind for me first. Oxford on gameday is unbelievable. Their tailgating scene, The Grove, is the epicenter of their brand. Ole Miss fans are so welcoming and so eager to share the experience with you, even if you've never met them before. 
I was at Ole Miss in Oxford once, dressed in their traditional khakis, navy blue blazer, and the requisite accompanying bowtie from Landry's in the Square, and a pretty lady in a blue dress walked up to me with a bloody mary in a chalice.  
It had grilled blackened shrimp in it, shrimp cocktail in it with accompanying cocktail sauce, bacon and celery and corn on the cob in it, and a full piece of cornbread on a stick. It was an entire meal. She hands it to me and says, "Welcome to The Grove, Mr. Smith. Hotty Toddy, honey." And then she turned around and walked away.  
Alabama, too, is amazing. There is an authentic energy about Tuscaloosa, in and around Bryant Denny Stadium on gameday, that's undeniable. Tide fans, and their nemeses down the road on The Plains at Auburn, live and die on fall Saturdays with the Tide and the Tigers. And it is beautiful.  
I love Tennessee. Virginia Tech tailgates have hosted some of the best moments of my life. I've attended killer tailgates at Notre Dame and sang with Irish students on SportsCenter. 
But when it comes to the best barbecue in college football, I have to give it to Alabama and Texas.  
Back in Tuscaloosa, fans will tell you that Dreamland BBQ is king, however, my own less popular opinion suggests a small joint known as Jim 'N Nick's, where they will serve you that slow-smoked southern goodness. 
My next "Best Que in CFB" is in the small town of Lexington, Texas. Located smack dab between College Station and Austin along Highway 77 is Snow's BBQ. Open Saturdays only, Snow's is the epitome of tradition. Longhorn and Aggie fans both gather at Snow's on Saturdays throughout the year and converse over football, family, faith and - of course - barbecue. 
God Bless College Football! 
So, let's fire up the Pit Boss and make your tailgate experience a winner.  
Plan ahead
Don't wait until last minute to prepare for the day. You'll want to reserve your tailgating spot ahead of time. If where you're going doesn't offer reservations, you should at least have a game plan for where you'll set up in the sanctioned tailgating areas.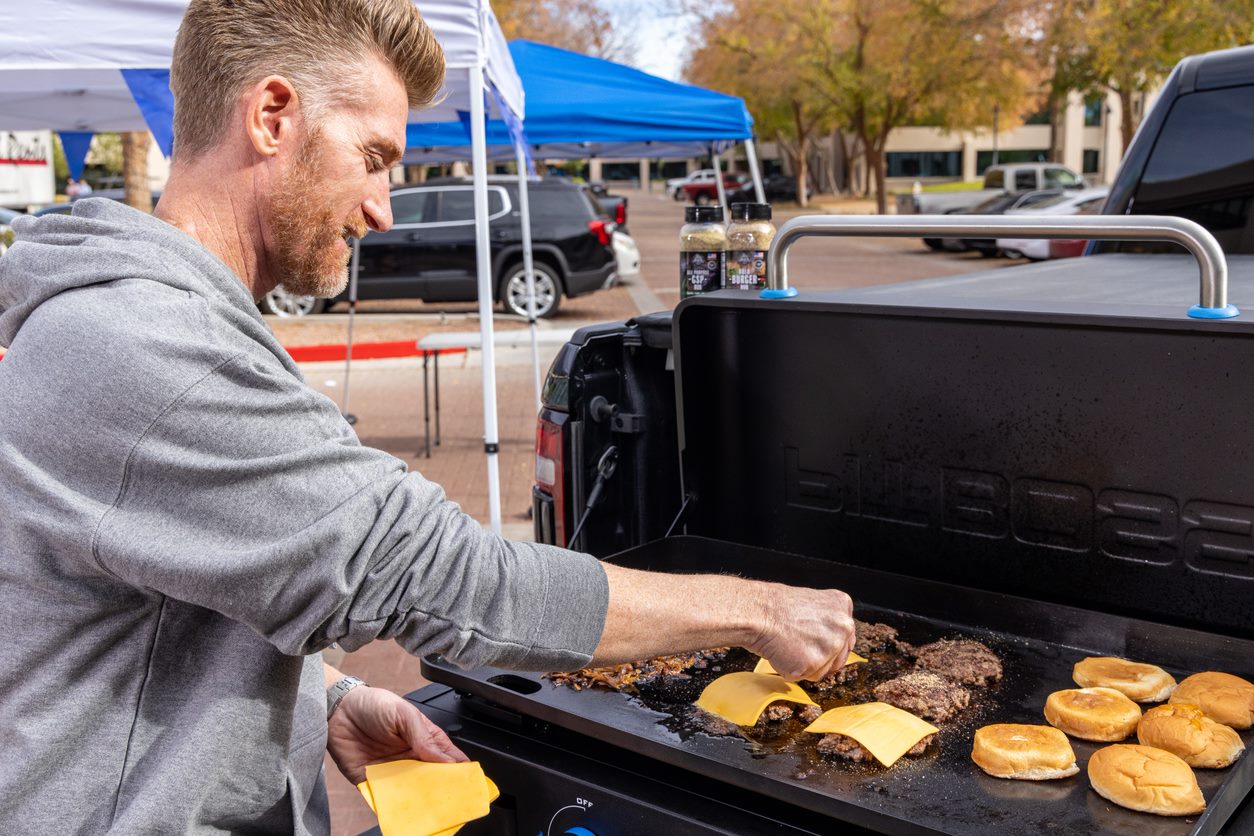 You also should know: stadium rules, parking lot opening times, what time you should take everything down, and any other guidelines. 
Plan your menu ahead of time and do any food prep in advance to ensure the day of runs smoothly. It's also a good idea to get all of your equipment packed up and even loaded up the night before.  
For me, I can't do tailgating without: My wife. My truck. Bluetooth speaker. Country music. My favorite drinks. A television to watch Marty & McGee. A pop-up canopy (from Academy Sports and Outdoors). SPF 70. Extension cord. A pork butt cooking on the Pit Boss smoker, hot dogs, and smash burgers on the griddle. Coleslaw. Buns. Ice. Coolers. Camping chairs. Red Solo Cups.  Coleslaw. Buns. Ice. Coolers. Yeti tumblers. Camping chairs. Red Solo Cups.  
To take the experience up a notch, bring along cornhole and face paint.  
Serve great food
If you're planning to tailgate with your Pit Boss, then this is a no-brainer.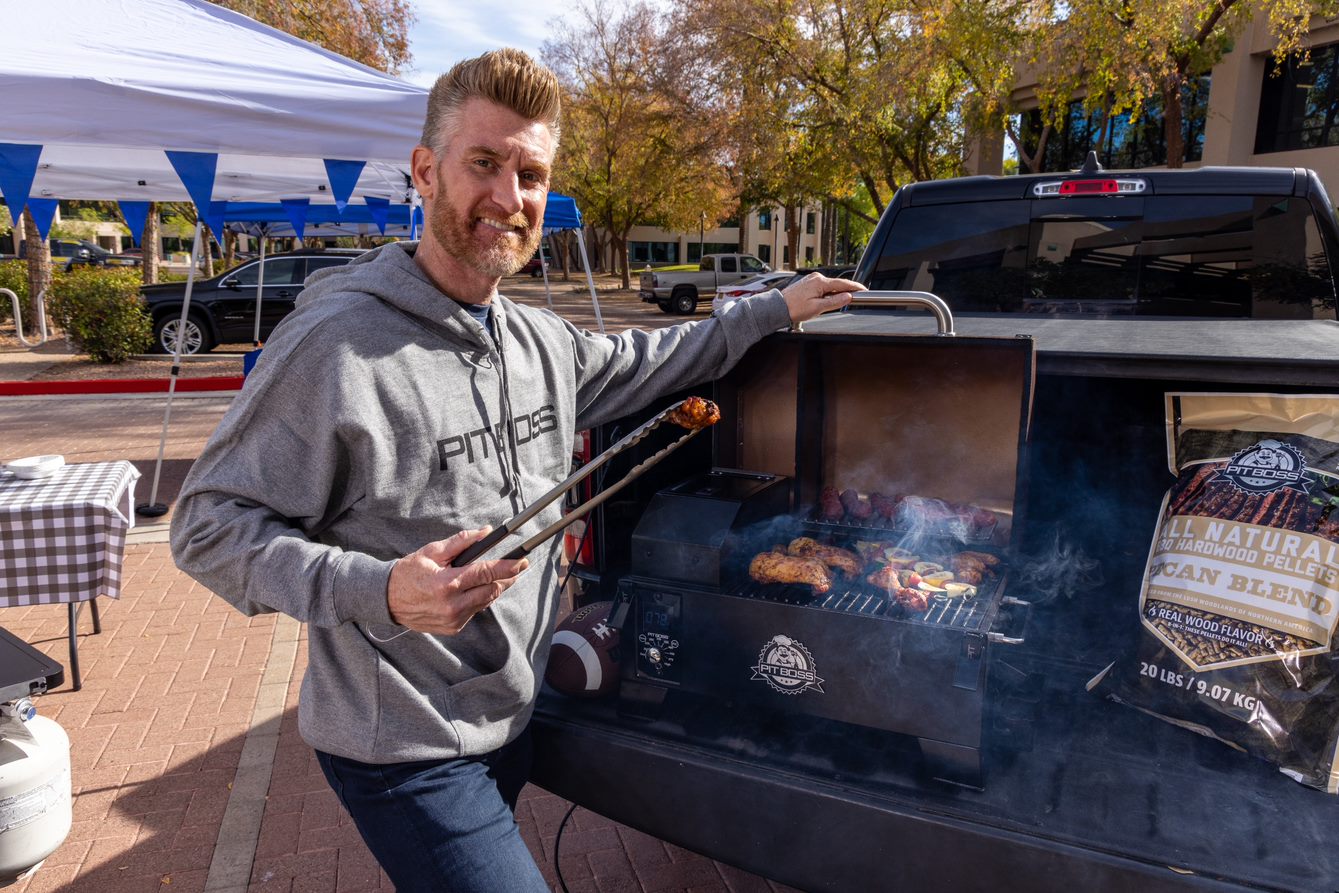 You could keep it simple and stick with the game day classics like wings, ribs, burgers, and appetizers. Check out the game day recipe section to build out your ultimate game day spread. A Pit Boss Pro Series Portable is perfect for cooking up whatever is on your menu.  
For me, tailgating food should always include pulled pork sandwiches, sliders, dogs, chips, and guacamole. If I'm catching a game at home, shredded buffalo chicken wraps are usually on the menu. 
Bring along great equipment
 At a good tailgate, you're there all day and will need to refuel.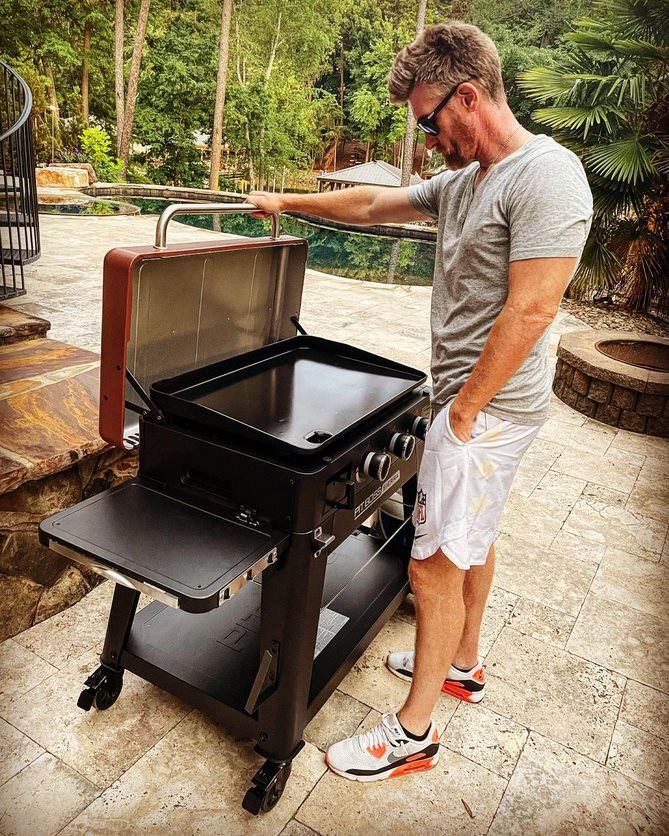 I like to bring my Pit Boss Sierra Griddle. This is a non-stick, easy-to-clean griddle that also has a lift-off feature perfect for tailgating. It's great for serving up breakfast, lunch, or dinner.  
For a smoker or grill, I like the Pro Series Portable Tabletop Pellet Grill for tailgating. This is lightweight, portable, and can cook everything from traditional burgers and hot dogs to low and slow items like ribs, brisket, pork shoulders, and butts. 
Embrace team traditions
Wear the colors. Sing the fight song. Be loud.  
This is what makes college football so special. So many unique traditions have been passed down from generation to generation, and hopefully for many years to come. Be a part of those traditions to really take in what game day is all about.  
Channel your competitive spirit
The competition starts before the game. Remember to bring along your favorite yard games. Or if your area is smaller, a deck of cards on the top of a cooler will suffice.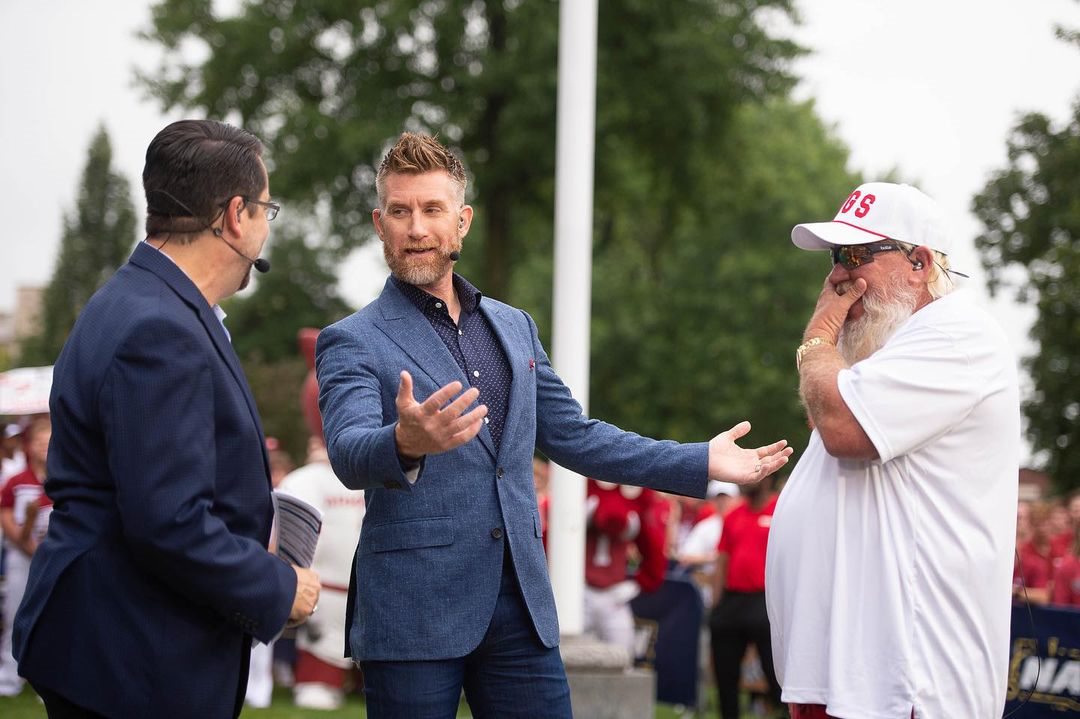 Forgot games? Don't be shy! Go make friends with a fellow fan and neighbor and challenge them to a face-off. 
Prepare for cleanup
Nothing is worse than ending a long day of fun with tiring cleanup. Instead, plan for this part so you can handle it quickly after the game.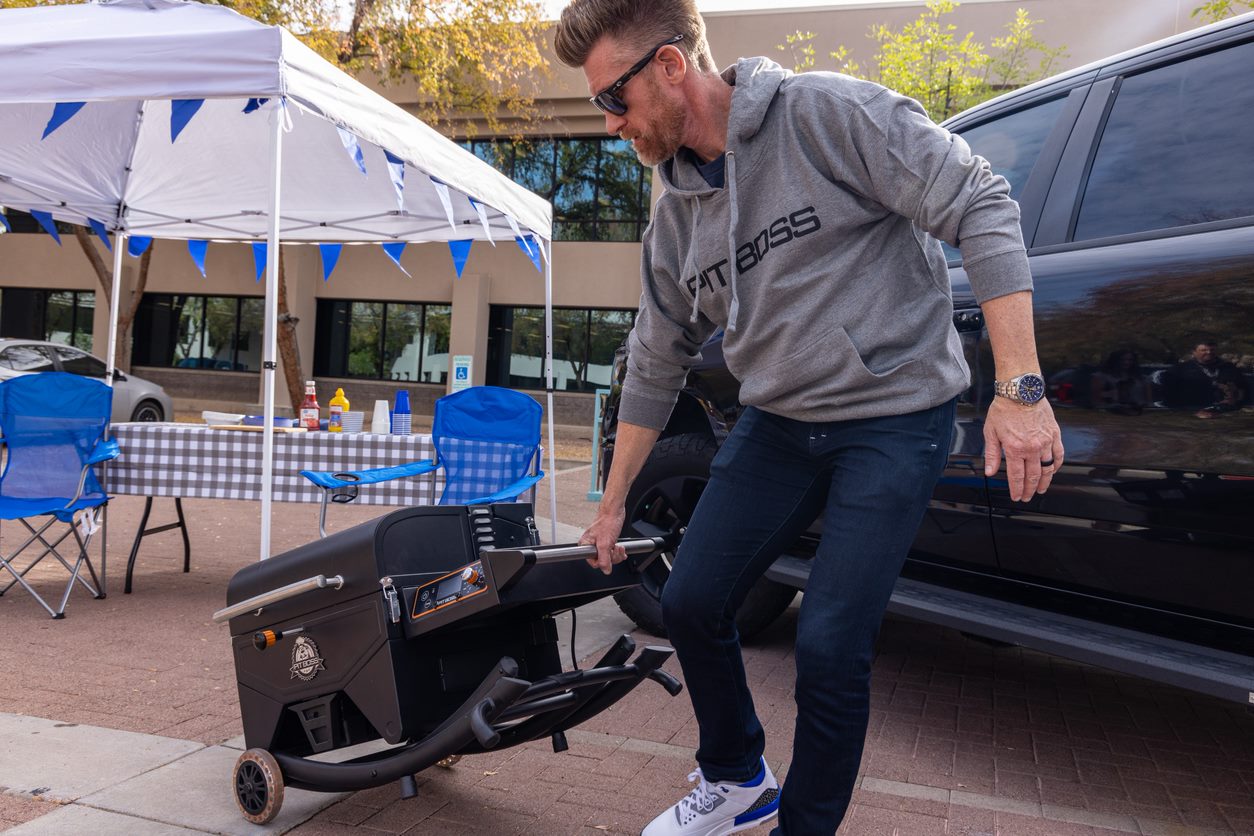 Bring along containers to pack up leftover food, as well as used serving dishes and grilling tools. You can also dispose of your griddle grease with these pan liners. Extra trash bags and cleaning wipes are also a good idea.   
Tailgating checklist: 
Pop-up canopy
Folding Chairs
Folding Table
Tablecloth
Cooler
Decorations
Portable Speaker
Aluminum Foil
Serving Dishes
Napkins
Cups
Plates/Cutlery
Trash bags
Hand sanitizer
Cleaning wipes
Food
Ice
Drinks
Condiments
Koozies
Outdoor games